Want to innovate? Start with becoming more curious.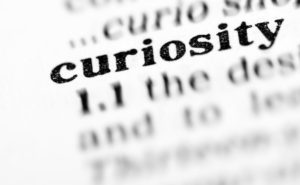 Most organisations (profit, non-profit, government) consider creativity and innovation to be essential nowadays, as well as being able to "deal with complexity". In my view curiosity is at the heart of all of these. To me this means to not take information and problems at face value but to investigate and wonder why things are as they are. Then you can make new connections to change what you don't like. We have largely neglected that skill. Instead most people feel pressure(d) to focus on taking action, often by jumping to uninformed answers to bad or lazy questions. That is the opposite of curiosity so I made it my mission to change that.
What about your curiosity?
Does this trigger your interest, or better yet, curiosity ? By all means get in touch. Check out typical problems that The New ABC can help you with and how. Or first read on for much more context on my main vision and in this summary presentation. Additionally, you can check the pages regarding my profile, projects/ examples, more thoughts and blog-posts.