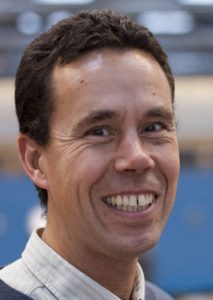 Mastering 21st century skills: the power of diversity
If anything on this site resonated with you, this means we have a first connection! Perhaps the one thing missing so far is more information on who yo get when you work with The New ABC?
So let's talk about that: The New ABC is the brainchild of Wouter Kersten, that's me. The resume-style summary is near the bottom of this page. But first the – more interesting – context.
My self-proclaimed professional role is Chief (professional) Curiosity because I consider this the key skill that is the basis for other 21st century skills. A broader term that I use is Learning & Change facilitator. "Diversity" is the main word that describes my career. Design, Innovation, Entrepreneurship, Research, Creative Thinking. And not just for me, also in roles to empower others in developing and nurturing these skills..
Until 2017 my primary role was Innovation manager at Enviu, an initiator of (scalable) social ventures worldwide. In that position I learned that it is in fact curiosity which is the crucial component of the creative process. That creative process is a prerequisite for innovation, Based on this experience, I encourage anyone to attach more value to asking good questions.
The diversity in my educational, professional and academic career has contributed to his overall attitude to look at anything from different perspectives before reaching any type of conclusion. This is what I like to invoke in others as well, in any stage of their learning process.
And there is more…
Additionally I have completed a part time doctorate (PhD) in 2020Q1. In a nutshell, the theme is Intentional Design for Diversity/ Scalability. A central question in this work is how to design product (and business) architectures that are (inherently) adaptive to a diversity of requirements. This is even more relevant when you are trying to address complex (large scale) societal issues. Complexity is real. Don't ignore or simplify it (too soon) but work with it. Developing and applying this theme fits perfectly in my vision to let curiosity and new connections rule the day. Obviously it is a perfect background for empowering others in how to more effectively deal with complex problems as well.
You can read my interview by Tom Allen of Impact Boom here, including link to the podcast. You can find more externally published information via my blog-pages. If you are interested what others say about their experiences, you can read about that here.
Work experience: diversity
The skills to develop, nurture and convey the importance of curiosity, critical thinking and creativity are a cumulative result of the mixture of all my activities. These are now available to you to reap the benefits from:
Applying curiosity and scaling expertise ("The Why, how, what and who of scaling innovations effectively") at Platform31, in particular related to circular economy.
Completed PhD Industrial Design Engineering at Delft University of Technology. You can actually download the thesis here, and read an interview here.
Chief Curiosity at The New ABC
Friend of cooperative Generous MInds, which supports social business: from Footprint to Goodprint
Innovation manager social venture creation & system change (Enviu)
Assessor and/or (pre) jury member for innovation competitions (Big Ideas UC Berkeley, Haagse Vernieuwers, Echoing Green, Think Beyond Plastic, Imagine)
Advisory board of This is Bouw design commune
More than 200 workshops, guest lectures, presentations in education and professional settings
Research Facilitator (Delft University of Technology)
Researcher (RIVM, WRR, Telos, Globus. Delft)
Telecom consultant (Logica)
Education: diversity
PhD Industrial Design Engineering (TU Delft, part-time). Here's my academic profile with links to main project and (subset of) publications.
MSc Environmental Science (University of Greenwich)
MSc Industrial Engineering & Management (University of Twente)